Using MySQL Create a view for Lisa Simpson. The viewmust show the full name of the customer including her full addressand phone number, account number and balance. The amount ofaccounts the customer opened and their category.
The employee who opened the account full name and job title. Makesure the view only shows this information to Lisa Simpsonandconcatenate
the customer name and address. The name of view must be Lisa Simpson.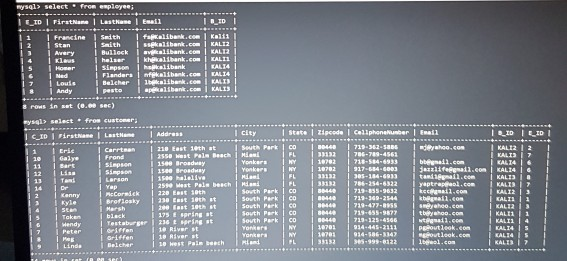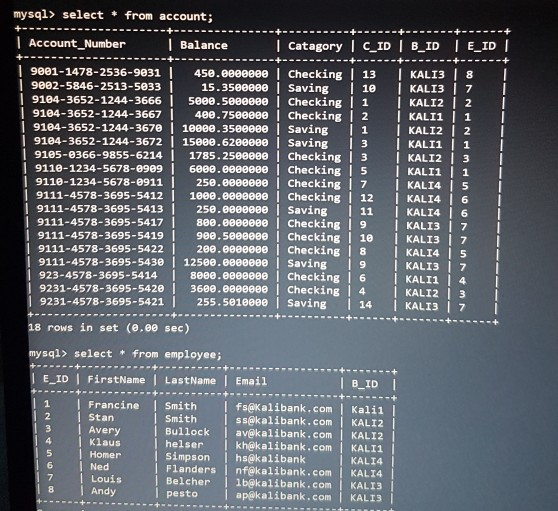 mysql> select from esployee; EID I FirstNane | LastHase 1 Esail IID 1Francine fapkalibank.com Kali1 ssekalibank.com1 KALT2 KALTR Sedth Saith Bullock helser 1 2 Stan avkalibank.com kh@kalibank.com I simpson hakalibank Flanders nfekalibank.com 1b@kalibank.com I apalibank.com Avery Klaus KALI KALI4 Homer Med I Louis Andy EALIA KALIN Belcher 1 pesto KALIS 8 rows in set (e.00 sec) eysgl select fros custoner I city I state zipcode I Cellphoneunber Email IID I ID I Address Firsthane I LastNane I CID Park I co KALI2 I 2 I 210 tast 1eth at 2558 Hest Pals Beach Miani I 150e Brosdway 150e Broadway 1500 halelive 719-362-5aBs 786-789-4561 718-584-6933 !deyahoo.com South I Carrtean Frond siapson simpson Larson I Erie | Galye I sart Lia Tani Dr Kanny I Kyle 1 FL 33132 KALIS KALI4 KALI4 10 11 bb@gnadl.com jazzlife@gnail.com tani1egnail.com yaptrap@eol.com I kecgnail.con kbgail.con smyahoo.con tbyahoo.con wtgmail.co Yonkers NY 10782 10782 33132 33132 88440 s0440 se440 s844 Yonkers NY 917-684-6003 1 12 FL PL South Park co South Park co 385-184-6933 KALI3 KALIS KALI2 3 KALI 13 Hiani 786-254-6322 259e weat Pale beach 228 East 10th Yap cCoreick Broflosky 14 713-855-9632 | 2 719-349-2144 719-477-8955 719-455-9877 1 KALI2 I KALI 1 230 East 10th at South Park 200 East 10th at 175 E spring st 236 tpring st 1e River st I 10 River st 10 Hest Pale beech Marsh biack I Testaburger I oriffen I ariffen 4 Stan South Park South Park Yonkers co Taken 713-125-4106 914-445-2111 914-586-3347 ses-999-8122 co 00440 KALI1 4 wendy NY NY 18701 10701 33132 PEoutleok.com goutlook.com 1eal.com KALI4 Peter Yonkers siand KALI4 KALIS Meg ILinds IBelcher (B 00 1er mysql> select from account; Account Number | Catagory C_ID B ID E ID I Balance 9001-1478-2536-9031 450.0000eee Checking 13 I 10 500e.50000ee | Checking | 1 400.750000e Checking 2 | 1 3 Checking 3 Checking 5 250.0000eee Checking 7 100e.eeeeeee | Checking | 12 | 11 8ee.eeeeeee Checking 9ee.seeeeee Checking | 10 20e.eeeeeee Checking | 8 9 se0e.e0e0eee Checking 6 3600.eeeee0e | Checking | 14 KALI3 8 15.3500000 Saving 9002-5846-2513-5033 KALI3 7 9104-3652-1244-3666 KALI2 2 KALI1 1 KALI2 2 I KALI1 KALI2 3 9104-3652-1244-3667 9104-3652-1244-3670 Saving 15000.62000e0 Saving 1000е. 350ее0е 9104-3652-1244-3672 1 9105-0366-9855-6214 1785.2500000 9118-1234-5678-0909 6000.e0eeeee KALI1 9110-1234-5678-0911 KALI4 9111-4578-3695-5412 KALI4 6 KALI4 6 I KALI3 | 7 KALI3 7 KALI4 5 I KALI3 7 9111-4578-3695-5413 250.0000000 Saving 9111-4578-3695-5417 9111-4578-3695-5419 9111-4578-3695-5422 9111-4578-3695-5430 12500.0eeeeee Saving 923-4578-3695-5414 KALI1 4 I KALI2 | 3 I KALI3 7 9231-4578-3695-5420 4 9231-4578-3695-5421 255.5010000 Saving 18 rows in set (e.ee sec) my sql> select from employee; I 8 ID E ID FirstName LastName Email I 1 Francine I Stan Smith fs@Kalibank.com Kali1 I I ss@kalibank.com KALI2 av@kalibank.com kh@kalibank.com hs@kalibank 2 Smith Avery Klaus Homer Ned Bullock KALI2 4 helser simpson Flanders | nf@kalibank.com I Belcher KALI1 5 KALI4 6 KALI4 KALI3 7 Louis | 1b@kalibank.com ap@kalibank.com I Andy pesto KALI3 – Show transcribed image text mysql> select from esployee; EID I FirstNane | LastHase 1 Esail IID 1Francine fapkalibank.com Kali1 ssekalibank.com1 KALT2 KALTR Sedth Saith Bullock helser 1 2 Stan avkalibank.com kh@kalibank.com I simpson hakalibank Flanders nfekalibank.com 1b@kalibank.com I apalibank.com Avery Klaus KALI KALI4 Homer Med I Louis Andy EALIA KALIN Belcher 1 pesto KALIS 8 rows in set (e.00 sec) eysgl select fros custoner I city I state zipcode I Cellphoneunber Email IID I ID I Address Firsthane I LastNane I CID Park I co KALI2 I 2 I 210 tast 1eth at 2558 Hest Pals Beach Miani I 150e Brosdway 150e Broadway 1500 halelive 719-362-5aBs 786-789-4561 718-584-6933 !deyahoo.com South I Carrtean Frond siapson simpson Larson I Erie | Galye I sart Lia Tani Dr Kanny I Kyle 1 FL 33132 KALIS KALI4 KALI4 10 11 bb@gnadl.com jazzlife@gnail.com tani1egnail.com yaptrap@eol.com I kecgnail.con kbgail.con smyahoo.con tbyahoo.con wtgmail.co Yonkers NY 10782 10782 33132 33132 88440 s0440 se440 s844 Yonkers NY 917-684-6003 1 12 FL PL South Park co South Park co 385-184-6933 KALI3 KALIS KALI2 3 KALI 13 Hiani 786-254-6322 259e weat Pale beach 228 East 10th Yap cCoreick Broflosky 14 713-855-9632 | 2 719-349-2144 719-477-8955 719-455-9877 1 KALI2 I KALI 1 230 East 10th at South Park 200 East 10th at 175 E spring st 236 tpring st 1e River st I 10 River st 10 Hest Pale beech Marsh biack I Testaburger I oriffen I ariffen 4 Stan South Park South Park Yonkers co Taken 713-125-4106 914-445-2111 914-586-3347 ses-999-8122 co 00440 KALI1 4 wendy NY NY 18701 10701 33132 PEoutleok.com goutlook.com 1eal.com KALI4 Peter Yonkers siand KALI4 KALIS Meg ILinds IBelcher (B 00 1er
mysql> select from account; Account Number | Catagory C_ID B ID E ID I Balance 9001-1478-2536-9031 450.0000eee Checking 13 I 10 500e.50000ee | Checking | 1 400.750000e Checking 2 | 1 3 Checking 3 Checking 5 250.0000eee Checking 7 100e.eeeeeee | Checking | 12 | 11 8ee.eeeeeee Checking 9ee.seeeeee Checking | 10 20e.eeeeeee Checking | 8 9 se0e.e0e0eee Checking 6 3600.eeeee0e | Checking | 14 KALI3 8 15.3500000 Saving 9002-5846-2513-5033 KALI3 7 9104-3652-1244-3666 KALI2 2 KALI1 1 KALI2 2 I KALI1 KALI2 3 9104-3652-1244-3667 9104-3652-1244-3670 Saving 15000.62000e0 Saving 1000е. 350ее0е 9104-3652-1244-3672 1 9105-0366-9855-6214 1785.2500000 9118-1234-5678-0909 6000.e0eeeee KALI1 9110-1234-5678-0911 KALI4 9111-4578-3695-5412 KALI4 6 KALI4 6 I KALI3 | 7 KALI3 7 KALI4 5 I KALI3 7 9111-4578-3695-5413 250.0000000 Saving 9111-4578-3695-5417 9111-4578-3695-5419 9111-4578-3695-5422 9111-4578-3695-5430 12500.0eeeeee Saving 923-4578-3695-5414 KALI1 4 I KALI2 | 3 I KALI3 7 9231-4578-3695-5420 4 9231-4578-3695-5421 255.5010000 Saving 18 rows in set (e.ee sec) my sql> select from employee; I 8 ID E ID FirstName LastName Email I 1 Francine I Stan Smith fs@Kalibank.com Kali1 I I ss@kalibank.com KALI2 av@kalibank.com kh@kalibank.com hs@kalibank 2 Smith Avery Klaus Homer Ned Bullock KALI2 4 helser simpson Flanders | nf@kalibank.com I Belcher KALI1 5 KALI4 6 KALI4 KALI3 7 Louis | 1b@kalibank.com ap@kalibank.com I Andy pesto KALI3 –
Expert Answer
---
Answer to Using MySQL Create a view for Lisa Simpson. The view must show the full name of the customer including her full address …