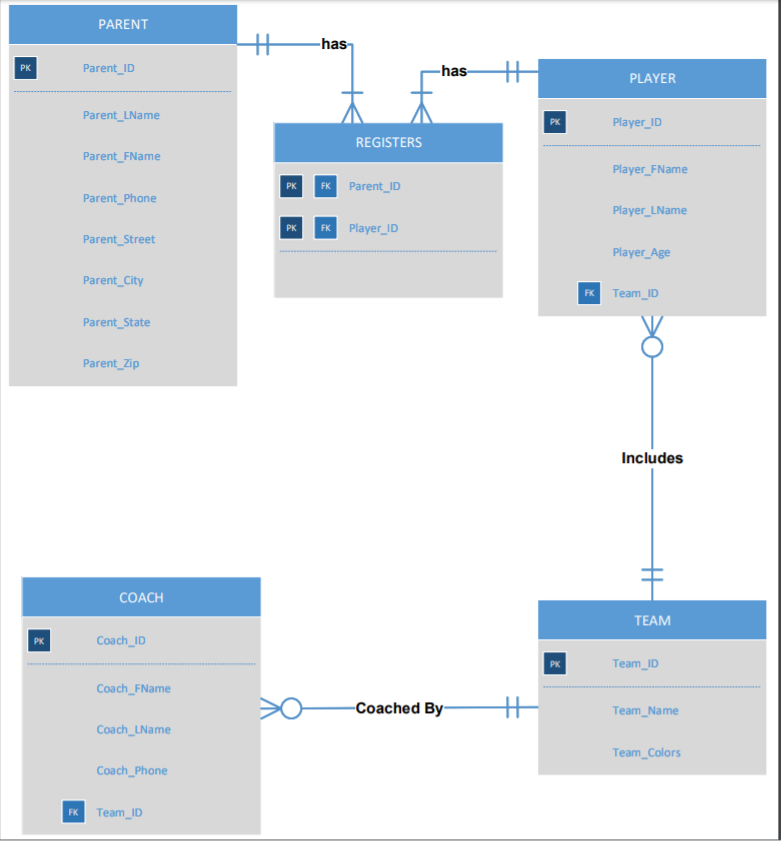 Write a Stored Trigger for the Youth League Database.
Submit the following code in the SQL script file you aresubmitting
Your Version of the SQL script to create the Youth LeagueDatabase and Insert Test Data. This version must use INSERT INTOStatements to place data into the database
SQL Script containing the Stored Trigger for the Youth LeagueDatabase
The Statement to activate and perform the Stored Trigger
Statements to visually verify that the Trigger executed.
———————————————————————————————————-
DROP DATABASE YouthLeague;
CREATE DATABASE YouthLeague;
USE YouthLeague;
CREATE TABLE Parent
(
Parent_ID CHAR (8),
Parent_LName    VARCHAR (50) NOT NULL,
Parent_FName    VARCHAR (50) NOT NULL,
Parent_Phone    CHAR (11),
Parent_Street VARCHAR (50) NOT NULL,
Parent_City VARCHAR (50) NOT NULL,
Parent_State VARCHAR (50) NOT NULL,
Parent_Zip CHAR (5),
   CONSTRAINT Parent_PK PRIMARY KEY (Parent_ID)
);
CREATE TABLE Team
(
Team_ID CHAR (8),
   Team_Name        VARCHAR (50)NOT NULL,
   Team_Colors VARCHAR (50) NOT NULL,
   CONSTRAINT Team_PK PRIMARY KEY (Team_ID)
);
CREATE TABLE Player
(
Player_ID CHAR (8),
   Player_FName VARCHAR (50),
   Player_LName VARCHAR (50),
   Player_Age NUMERIC NOT NULL,
   Team_ID_FK CHAR (8),
   CONSTRAINT Player_PK PRIMARY KEY (Player_ID),
   CONSTRAINT Player_FK1 FOREIGN KEY (Team_ID_FK)
   REFERENCES Team(Team_ID)
);
CREATE TABLE Coach
(
Coach_ID CHAR (8),
   Coach_FName    VARCHAR (50) NOT NULL,
   Coach_LName VARCHAR (50) NOT NULL,
   Coach_Phone CHAR (11),
   Team_ID_FK CHAR (8),
   CONSTRAINT Coach_PK PRIMARY KEY (Coach_ID),
   CONSTRAINT Coach_FK1 FOREIGN KEY (Team_ID_FK)
   REFERENCES Team(Team_ID)
);
CREATE TABLE Registers
(
Parent_ID_FK CHAR (8),
   Player_ID_FK CHAR (8),
   CONSTRAINT Registers_PK PRIMARY KEY (Parent_ID_FK,Player_ID_FK),
   CONSTRAINT Registers_FK1 FOREIGN KEY (Parent_ID_FK)REFERENCES Parent(Parent_ID),
   CONSTRAINT Registers_FK2 FOREIGN KEY (Player_ID_FK)REFERENCES Player(Player_ID)
);
—————————————————————————————————————–
INSERT INTO Parent (Parent_ID, Parent_LName, Parent_FName,Parent_Phone, Parent_Street, Parent_City, Parent_State,Parent_Zip)
VALUES ("PA101″,"Dunn","Hector ","18033158451″,"2665 MooreAvenue","Ward","South Carolina","29166″);
INSERT INTO Parent (Parent_ID, Parent_LName, Parent_FName,Parent_Phone, Parent_Street, Parent_City, Parent_State,Parent_Zip)
VALUES ("PA102″,"Riddle","Kyla ","14147795088″,"4407 JohnnyLane","Milwaukee","Wisconsin","53202″);
INSERT INTO Parent (Parent_ID, Parent_LName, Parent_FName,Parent_Phone, Parent_Street, Parent_City, Parent_State,Parent_Zip)
VALUES ("PA103″,"Pennington","Andy ","16512192382″,"1590 PostAvenue","Minneapolis","Minnesota","55402″);
INSERT INTO Parent (Parent_ID, Parent_LName, Parent_FName,Parent_Phone, Parent_Street, Parent_City, Parent_State,Parent_Zip)
VALUES ("PA104″,"Bush","Lauren ","18104743326″,"1862 FrontStreet","Southfield","Michigan","48075″);
INSERT INTO Parent (Parent_ID, Parent_LName, Parent_FName,Parent_Phone, Parent_Street, Parent_City, Parent_State,Parent_Zip)
VALUES ("PA105″,"Klein","Krish ","13139377743″,"3920 StateStreet","Livonia","Michigan","48150″);
INSERT INTO Parent (Parent_ID, Parent_LName, Parent_FName,Parent_Phone, Parent_Street, Parent_City, Parent_State,Parent_Zip)
VALUES ("PA106″,"Anthony","Pascale","15734070220″,"3739 AdamsDrive","Grover","Missouri","63040″);
INSERT INTO Parent (Parent_ID, Parent_LName, Parent_FName,Parent_Phone, Parent_Street, Parent_City, Parent_State,Parent_Zip)
VALUES ("PA107″,"Stanley","Letchworth","12158054833″,"121 LostCreek Road","Sinking Spring","Pennsylvania","19608″);
INSERT INTO Team (Team_ID, Team_Name, Team_Colors)
VALUES ("T101″,"Rebels","Blue");
INSERT INTO Team (Team_ID, Team_Name, Team_Colors)
VALUES ("T102″,"Red Devils","Red");
INSERT INTO Team (Team_ID, Team_Name, Team_Colors)
VALUES ("T103″,"Predators","Yellow");
INSERT INTO Team (Team_ID, Team_Name, Team_Colors)
VALUES ("T104″,"Aggies","Orange");
INSERT INTO Team (Team_ID, Team_Name, Team_Colors)
VALUES ("T105″,"Privateers","Green");
INSERT INTO Team (Team_ID, Team_Name, Team_Colors)
VALUES ("T106″,"Pride","Brown");
INSERT INTO Team (Team_ID, Team_Name, Team_Colors)
VALUES ("T107″,"Aces","White");
INSERT INTO Player (Player_ID, Player_FName, Player_LName,Player_Age, Team_ID_FK)
VALUES ("PL101″,"Aaron","Rodgers","15″,"T101″);
INSERT INTO Player (Player_ID, Player_FName, Player_LName,Player_Age, Team_ID_FK)
VALUES ("PL102″,"Drew","Brees","10″,"T102″);
INSERT INTO Player (Player_ID, Player_FName, Player_LName,Player_Age, Team_ID_FK)
VALUES ("PL103″,"Tom","Brady","12″,"T103″);
INSERT INTO Player (Player_ID, Player_FName, Player_LName,Player_Age, Team_ID_FK)
VALUES ("PL104″,"Todd","Gurley","14″,"T104″);
INSERT INTO Player (Player_ID, Player_FName, Player_LName,Player_Age, Team_ID_FK)
VALUES ("PL105″,"Antonio","Brown","11″,"T105″);
INSERT INTO Player (Player_ID, Player_FName, Player_LName,Player_Age, Team_ID_FK)
VALUES ("PL106″,"David","Silva","13″,"T106″);
INSERT INTO Player (Player_ID, Player_FName, Player_LName,Player_Age, Team_ID_FK)
VALUES ("PL107″,"Sergio","Ramos","12″,"T107″);
INSERT INTO Coach (Coach_ID, Coach_FName, Coach_LName,Coach_Phone, Team_ID_FK)
VALUES ("C101″,"Gregg","Berhalter","18137922300″,"T101″);
INSERT INTO Coach (Coach_ID, Coach_FName, Coach_LName,Coach_Phone, Team_ID_FK)
VALUES ("C102″,"Bruce","Arena","17862512401″,"T102″);
INSERT INTO Coach (Coach_ID, Coach_FName, Coach_LName,Coach_Phone, Team_ID_FK)
VALUES ("C103″,"Dave","Sarachan","14348262888″,"T103″);
INSERT INTO Coach (Coach_ID, Coach_FName, Coach_LName,Coach_Phone, Team_ID_FK)
VALUES ("C104″,"Steve","Sampson","15596317376″,"T104″);
INSERT INTO Coach (Coach_ID, Coach_FName, Coach_LName,Coach_Phone, Team_ID_FK)
VALUES ("C105″,"Bob","Gansler","13256033157″,"T105″);
INSERT INTO Coach (Coach_ID, Coach_FName, Coach_LName,Coach_Phone, Team_ID_FK)
VALUES ("C106″,"Cobi","Jones","17087849071″,"T106″);
INSERT INTO Coach (Coach_ID, Coach_FName, Coach_LName,Coach_Phone, Team_ID_FK)
VALUES ("C107″,"John","Hackworth","15305388387″,"T107″);
INSERT INTO Registers (Parent_ID_FK, Player_ID_FK)
VALUES ("PA101″,"PL101");
INSERT INTO Registers (Parent_ID_FK, Player_ID_FK)
VALUES ("PA102″,"PL102");
INSERT INTO Registers (Parent_ID_FK, Player_ID_FK)
VALUES ("PA103″,"PL103");
INSERT INTO Registers (Parent_ID_FK, Player_ID_FK)
VALUES ("PA104″,"PL104");
INSERT INTO Registers (Parent_ID_FK, Player_ID_FK)
VALUES ("PA105″,"PL105");
INSERT INTO Registers (Parent_ID_FK, Player_ID_FK)
VALUES ("PA106″,"PL106");
INSERT INTO Registers (Parent_ID_FK, Player_ID_FK)
VALUES ("PA107″,"PL107");
PARENT has Parent_ID hasH PLAYER Player_10 Parent_LName Player_ID REGISTERS Parent_FName Player_FName FK Parent_ID Parent_Phone Player_LName Player_ID Parent_Street Player_Age Parent_City Team_ID Parent_State Parent_zip Includes COACH TEAM Coach_ID Team_ID Coach_FName >O_ Coached By — Team_Name Coach_LName Team_Colors Coach_Phone Team_ID Show transcribed image text PARENT has Parent_ID hasH PLAYER Player_10 Parent_LName Player_ID REGISTERS Parent_FName Player_FName FK Parent_ID Parent_Phone Player_LName Player_ID Parent_Street Player_Age Parent_City Team_ID Parent_State Parent_zip Includes COACH TEAM Coach_ID Team_ID Coach_FName >O_ Coached By — Team_Name Coach_LName Team_Colors Coach_Phone Team_ID
Expert Answer
---
Answer to Write a Stored Trigger for the Youth League Database. Submit the following code in the SQL script file you are submittin…